Report says bullying is 'common' in parts of NHS Lothian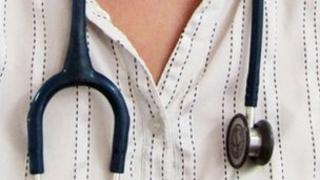 NHS Lothian has an "inappropriate management culture" which originates from the top level, according to a new report.
The independent study was ordered after concerns about the board's culture were raised during a probe into the manipulation of waiting times.
It found bullying was "common" at certain levels within the organisation.
Health Secretary Nicola Sturgeon, who ordered the report, said there was "no place" for such a management style.
She added that the board needed to "embrace a new strategic direction".
'Blame culture'
The report said interviews with staff had depicted an organisation where being bullied was common at certain levels.
It said the management styles described by staff, and a number of alleged incidents highlighted during interviews and focus groups, could be described as "creating an undermining, intimidating, demeaning, threatening and hostile working environment for some staff".
It also highlighted concerns surrounding a strong sense of a "blame culture" and a reluctance to pass bad news too far up the management chain.
The report said "a number of instances of bullying, intimidation and inappropriate behaviours were alleged, both first and second-hand".
It said: "This depicts an organisation where being bullied, whilst not representing the daily experiences of the majority of staff, is common at certain levels.
"The corollary is that staff feel intimidated and anecdotes of bullying behaviour are common, with the Lothian way often being referred to as 'the bullying way'.
"This has pervaded the culture of the organisation so that staff feel under-valued and they have little faith that the organisation will handle them in a fair manner, should they need to raise an issue about bullying by a senior manager."
Breaching targets
Last month, chief executive Professor James Barbour retired after more than a decade in the job.
In April the health board had been criticised by Ms Sturgeon for manipulating waiting times.
An independent report said NHS Lothian had doctored some of its figures to avoid breaching official targets.
Two members of staff were suspended as part of an investigation into waiting times after it emerged last October that patients were being referred to Northumberland for treatment.
When they declined, they were not included on a list of patients waiting more than the target of 18 weeks for treatment.
The new report makes recommendations which focus on improving the board's values, culture and organisational development.
Ms Sturgeon said: "I want to be clear that there is no place in any part of the NHS for a management style or culture of this type and it will not be tolerated.
"However, the report also makes clear that this should not be seen as a general condemnation of management within NHS Lothian.
"Excellent relationships exist within teams and there are many exceptionally good leaders and managers who have been unaffected by the issues identified.
"It will be important now for the board to embrace a new strategic direction and work to embed an inclusive, supportive, open and transparent culture throughout the organisation."
Way forward
She said Dr Charles Winstanley, the chairman of NHS Lothian, had been asked to produce "a single integrated action plan which will bring together the improvements required in waiting time information reporting, governance and culture".
Dr Winstanley said it had been a "difficult time" for the organisation.
He said the review had been necessary and had given NHS Lothian a clear way forward.
"Our focus is now on implementing the recommendations and ensuring that NHS Lothian never finds itself in this position again," he said.
"We intend to establish a steering group made up of trades unions representatives and non-executive members of the board to oversee the progress of the recommendations."
The review, which published its findings on Friday, conducted 57 one-to-one interviews with employees and held five focus groups with another 56 staff from a cross section of roles and disciplines.
It also considered the findings of interviews with members of the board's executive management team.