Edinburgh bus lane cameras to be reviewed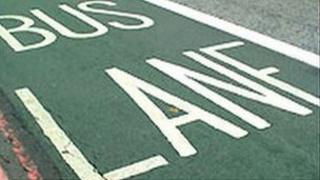 Edinburgh Council is to carry out an "urgent review" of a controversial camera system set up to monitor illegal use of the city's bus lanes.
The move follows complaints that some motorists were being unfairly fined after being caught on camera driving in one of the green lanes.
The council said it still supported the principle of preventing misuse of bus lanes by other traffic.
But it said the system had to be fair and be easily understood by drivers.
The Labour group's transport spokeswoman, Councillor Lesley Hinds, said the results of the review would be announced at the beginning of next week.
She added: "In light of the problems currently being experienced by drivers, the new administration has instructed an urgent review of the camera system recently put in place to monitor illegal use of the city's bus lanes.
"While we all support the principle of preventing the misuse of the city's bus lanes by general traffic, we also appreciate that any system has to be clearly understood by the public as well as being fairly enforceable."
Taxi driver
The cameras were introduced on 23 April in a bid to ensure that only buses and black cabs used the green bus lanes, with offenders receiving an automatic £60 fine from the council.
More than 4,500 motorists were reported to have been caught in the first six days of the cameras being operational.
Among them was a female driver who complained she was fined £60 after being caught driving on the greenway at 07:29 and 57 seconds - three seconds before the cameras are supposed to be switched on.
Residents of Willowbrae Avenue said they were being fined every day because they needed to drive through a bus lane to get home.
Several motorists said it had taken more than two weeks to find out they had been fined because of a backlog caused by the number of offenders.
Meanwhile, a private hire taxi driver clocked up £1,800 in fines after being caught 30 times in the space of a fortnight.