Edinburgh City Council cuts paper costs with iPads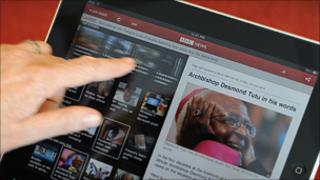 Edinburgh City Council is to spend £18,000 on iPads for its elected councillors and senior officials in a bid to cut its £200,000 paper bill.
The local authority is one of the first in Scotland to make plans to move to using iPads.
The new administration said the move would save about one million sheets of paper every year as reports and agendas would not have to be printed.
A wi-fi system is being installed at the City Chambers at a cost of £29,000.
Stirling Council has also issued iPads to its councillors and senior officials.
More efficient
Andrew Burns, Edinburgh City Council leader, said: "We need to be a modern organisation that embraces technology, using it to save money and improve how we do business.
"This is a great chance to show we are serious about being more efficient while also reducing our impact on the environment."
Alastair Maclean, Edinburgh City Council's director of corporate governance, added: "This initiative sends an important message about how we are looking to use IT to run the council better.
"Such innovations are standard practice in the business world and we need to do the same.
"It also pays for itself in the first year and provides recurring benefits."
There will be a phased roll-out over the next few weeks and months to councillors and senior officers who regularly attend council meetings.