Two bus lane cameras removed in Edinburgh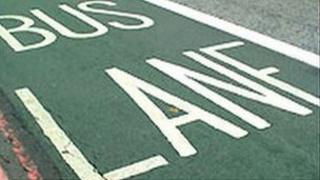 Two of Edinburgh's five cameras which monitor illegal use of the city's bus lanes have been removed from a street.
The cameras on Willowbrae Road, at Duddingston Crossroads and Jock's Lodge, were taken down at the weekend.
It follows complaints from residents who said they had received daily £60 fines for driving over the bus lane to access their homes.
It is understood the Willowbrae Road cameras caught more than 1,700 drivers in their first six days.
'Teething problems'
Lesley Hinds, Edinburgh City council's transport leader, told the BBC Scotland news website she had now ordered a root and branch review to make sure the system was made "simpler, easier and fairer".
She said: "No-one disagrees that the camera system is not a good one as it keeps buses flowing.
"There were due to be another five cameras put up across the city but that has now been put on hold until we have conducted a root and branch review.
"We are now looking at the process of how people have been fined as we recognise there have been teething problems. We want to make it a fair and robust system for every person."
Automatic fine
The cameras were introduced on 23 April in a bid to ensure that only buses and black cabs used the green bus lanes, with offenders receiving an automatic £60 fine from the council.
More than 4,500 motorists were reported to have been caught in the first six days of all five cameras being operational across the city.
Among them was a female driver who complained she was fined £60 after being caught driving on the greenway at 07:29 and 57 seconds - three seconds before the cameras were supposed to be switched on.
It has also been revealed a private hire taxi driver clocked up £1,800 in fines after being caught 30 times in the space of a fortnight.