Pawel Rodak guilty of killing lecturer Roger Gray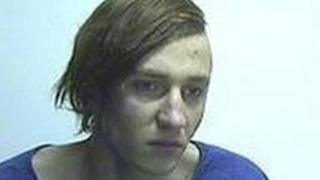 A 21-year-old man has been found guilty of killing a former university lecturer in his Edinburgh home.
Pawel Rodak, who was working as a male prostitute, stabbed Roger Gray 114 times in a frenzied attack last year.
The Polish national was found guilty of culpable homicide by reason of diminished responsibility.
Mr Gray, 64, who had retired as a lecturer at Heriot-Watt University, was found dead in his Merchiston Crescent home in March 2011.
The alarm was raised after a neighbour reported a gas leak.
The 14-day trial at the High Court in Livingston heard that Rodak had met the former teacher on about three occasions, when he was being paid for sex after Rodak placed an advert on the "Gay Romeo" website.
Stephen McGowan, deputy director of serious casework for COPFS, said: "Pawel Rodak killed his victim, after subjecting him to a violent and sustained assault in his own home.
"The jury heard evidence that he then comprehensively ransacked the flat.
"He turned on all four gas burners on the cooker in the flat, without igniting the flame, allowing gas to build up.
"He also lit a candle near the cooker. He removed items from the crime scene and disposed of them in a public waste bin."
'Gifted teacher'
Rodak told psychiatrists he had decided to become a male prostitute and charge for sex because he had no money.
He said his first sexual experience had been at the age of 15 when he was sexually assaulted by a 26-year-old man in Poland.
He said his attacker had held him down, banged his head on the floor and raped him.
As a result of that attack, Rodak's defence team had claimed the killing was triggered by post traumatic stress syndrome.
He claimed Mr Gray had offered to double his fee if he inflicted pain on him.
Rodak was remanded in custody. Sentence was deferred until 29 June at the High Court in Livingston.
In a statement, Roger Gray's 67-year-old brother, Fred, said he had come to the court to observe justice and obtain closure on his brother's death.
He said: "In my view, the evidence presented has shown beyond any reasonable doubt that my brother was killed by Pawel Rodak.
"There is nothing that can bring my brother back. He spent his working life in academia where he was recognised as a gifted teacher and ambassador for his university.
"His killer will have plenty of time to reflect on his actions, and will hopefully devote the next phase of his life to make himself a better person fit to contribute to society.
"Our family can move on, but we will never forget Roger, who helped many people during his life."