Call for action to tackle 'Scottish effect' on suicide rates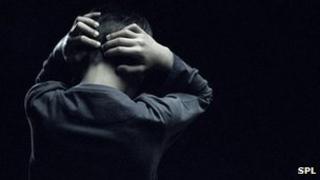 Researchers say action is needed to reduce suicide rates in Scotland - which are higher than in other parts of the UK.
For the first time they have analysed data to identify the reason.
The report from Manchester and Edinburgh Universities, said the way patients and doctors react to psychological problems could be partly to blame.
They said this "Scottish effect" may lead more people to take their lives.
Their report, published in the Journal of Epidemiology & Community Health, reveals a complex picture with alcohol and drugs, along with deprivation, all playing their part - as they do elsewhere.
Problems arising from alcohol accounted for 33% of the "excess" suicides in Scotland and deprivation for 24%.
The researchers from Edinburgh and Manchester Universities, who had first identified the higher level of suicide in Scotland, suggested the way depression and mental health issues are treated here could be one reason for the higher suicide level.
They said 42% of the additional suicides could be attributed to the prescription of drugs for anxiety or depression.
Inappropriate treatment
Professor Louis Appleby of Manchester University, one of the report authors, said Scottish patients appear to expect medication for their problems - and doctors are more likely to prescribe it.
He said the use of psychotropic medicine to treat symptoms, rather than the cause of depression or anxiety being tackled, could explain the higher suicide rates in Scotland.
"It is difficult to know if the problem lies with the people or the NHS," he said.
"It could be either inappropriate treatment seeking - or delivery."
The report said there was no evidence that levels of mental health problems were greater in Scotland than elsewhere in the UK.
But co-author, Professor Steve Platt of Edinburgh University, said: "We acknowledge that one interpretation of the higher rate of prescription of psychotropic medications in Scotland is that Scotland has a higher rate of mental illness.
"But we also acknowledge that there are other interpretations of this variable, including differences in the behaviour of patients and/or doctors."
The report concluded: "Any attempt to reverse the divergent trend in suicide between Scotland and England will require initiatives to prevent and treat mental ill-health, and to tackle alcohol and drug misuse.
"Differences in prescribing rates, however, may also be explained by differences in illness behaviour, or the availability of psychosocial interventions, and addressing these may also reduce Scotland's excess risk."
Appropriate treatments
Between 2000 and 2006 the suicide rate in Scotland was 79% higher than in England, while for young Scots aged 15-44, it was twice as high.
But rates, while continuing to be higher, have started to fall.
The Scottish government said action was being taken, and the number of suicides in 2010 was among the lowest since 1991.
A spokesman said: "Among the actions being taken, the 'Choose Life' initiative is engaging men through a national advertising campaign and locally through community partnerships and with the support of pubs and football clubs.
"We are continuing to maintain training in suicide prevention across frontline NHS staff to ensure depression and anxiety are recognised and responded to with appropriate treatments and support for individuals, including good discharge planning."
The government said there were targets in place for patients' access to psychology services - and to improve the quality of care delivered to people presenting with mental health problems.