Man denies OAP rape and murder in Edinburgh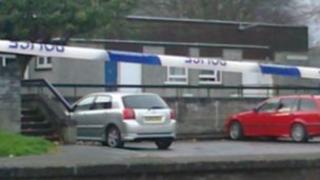 A young man has gone on trial accused of raping, robbing and murdering a pensioner in her own home in Edinburgh.
Kevin Rooney, 26, denies attacking 74-year-old Rosina Sutherland, who suffered from mild dementia, at her house last year.
He is alleged to have killed her after ransacking her home in Longstone.
He is alleged to have sexually assaulted her, repeatedly hitting her on the head and body and compressing her throat, restricting her breathing.
No movement
Mr Rooney, who is on trial at the High Court in Aberdeen, is accused of robbing the OAP of money, keys and a walking stick during the alleged incident on 29 October.
Earlier on Tuesday Rosina Sutherland's son-in-law described how he found Mrs Sutherland's body lying in her sheltered housing bungalow two days after her death.
Robert Iannelli said he was contacted by a security firm to say an alarm had been sounding at Mrs Sutherland's home and no movement had been detected by a sensor for some time.
He said he went to the house and let himself in after discovering the door was unlocked and found the usually tidy house had been "trashed".
Mr Iannelli said he then went to the bedroom and discovered Mrs Sutherland's corpse lying with a towel folded neatly over her face.
He said: "I saw a pair of bare feet. She was down the side of the bed at my feet.
"There was a big white towel over her body and as I looked further up there was a smaller, dark brown towel which had been neatly folded. It was over her head.
"I lifted the towel and I saw Rose's face and I put the back of my hand against her neck to see if she was still warm.
"I put it back on her head. I just knew there was something wrong. Something inside me just said don't touch anything, put everything back and get out the house.
"I phoned my wife Theresa. I just said 'your mum's dead'. She was hysterical. I said something was wrong, the house had been trashed."
One of Mrs Sutherland's other daughters, Jane Sutherland, 48, wept as she told the jury about the last time she saw her mum alive, on the day she died.
She also said the OAP, who had loved cats and was an Elvis fan, had kept a very clean home and said it had been tidy when she left her mum that afternoon.
She said: "We talked about Christmas. She was happy. I gave her a cuddle and told her I loved her."
Mr Rooney faces another charge of trying to sell cannabis at the Longstone Inn on the same date.
He denies the allegations.
The trial, before Lady Dorrian, continues.