Edinburgh Legionnaires' outbreak: Numbers 'expected to fall'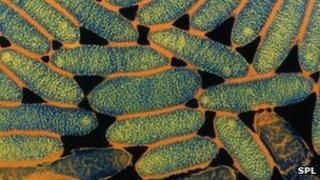 The doctor overseeing the Legionnaires' outbreak in Edinburgh has predicted the number of patients contracting the disease "will soon begin to fall".
Dr Duncan McCormick, NHS Lothian consultant in public health medicine, said the number of people with the disease had not changed in 24 hours.
He said the number of patients that had been discharged from hospital increased on Tuesday.
In total, 88 cases have been confirmed or suspected.
It is thought the infection was spread by a release of contaminated vapour from a cooling tower in the south west of Edinburgh.
Chemical cleaning of local cooling towers has been carried out and two companies have been told to improve their cleaning practices.
NHS Lothian said of the 88 cases being treated in hospital, 14 are in intensive care and 23 are on general wards.
A total of 18 cases are being treated in the community, 25 have been discharged from hospital and one person has died.
Seven cases are being treated outwith the NHS Lothian area. The ages of the confirmed cases ranges between 33 and 76, with more males than females affected.
NHS 24 has received 784 calls to the helpline for Legionnaires' disease.
The Health and Safety Executive and Edinburgh City Council are continuing their investigations into the possible source of the outbreak.
Dr McCormick said: "The number of confirmed and suspected cases remain the same as before, which is encouraging and in line with our predictions.
"We do expect some fluctuation, but overall we anticipate the numbers will soon begin to fall.
"I am also pleased to note that the numbers of patients who have recovered and been discharged from hospital has risen today which is also a welcome trend.
"Staff across NHS Lothian in acute care, primary care, testing facilities, NHS 24 and in out-of-hours services are continuing their excellent work to ensure that patients receive the right care in the right place at the right time, while providing reassurance to those with concerns."