Edinburgh housing repairs probe: Dave Anderson suspended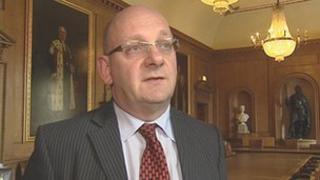 One of Edinburgh City Council's senior directors has been suspended as part of an investigation into the authority's property repairs service.
Dave Anderson, the council's director of city development, has been "suspended with immediate effect".
A probe is underway into how contracts were awarded for work relating to property maintenance in the capital.
About 500 people have complained about statutory notices with concerns including costs and unnecessary work.
The council has said it will investigate all outstanding 513 disputes, which include alleged bribery, overcharging, unnecessary and poor quality work.
Edinburgh City Council uses a system of statutory notices to ensure essential repairs are carried out on its historic tenements.
Under the statutory notice system, Edinburgh City Council can intervene to organise repair work on private properties when the owners of shared buildings cannot reach agreement.
'Resolved quickly'
When the allegations came to light last year, at least 15 staff were suspended and of those five have been sacked.
Greg Ward, the council's head of economic development, will take on Mr Anderson's work and report to council chief executive Sue Bruce.
Mrs Bruce said: "I can confirm that the director of city development has been suspended pending a disciplinary investigation into managerial matters.
"The council has clear procedures in place to handle such cases and it would be inappropriate to make any further comment at this time."
Andrew Burns, the Edinburgh City Council leader, said: "This is a management matter and I have every confidence that the chief executive will see that it is resolved properly and as quickly as possible.
"I will be seeking regular updates on progress."
Mr Anderson earns £123,525 per year.