World premiere for special music by Edinburgh disabled stars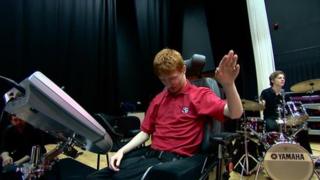 New technology has enabled three disabled musicians from Edinburgh to take centre stage in an orchestral piece to celebrate the Olympics.
Their specially designed instruments detect tiny movements, making it easier for people with disabilities to play.
Scots composer Oliver Searle has been commissioned to write a work showcasing what the instruments can do.
It will be premiered in Edinburgh on Friday and will feature next month at London's Southbank ahead of the Games.
Anthony Swift, 15, who has cerebral palsy, plays a solo using the soundbeam.
It looks like a torch, projecting an invisible sensor that responds to hand movements. Anthony plays by moving his arm up and down the beam.
He said: ''When I was wee all I wanted to do was play an instrument.''
It is difficult for Anthony to hold an instrument, so the soundbeam enables him to display his musical talents.
He added: ''It's just so amazing to get the opportunity to show people what I can actually be capable of.''
Another soloist is 17-year-old Stephanie Forrest on the skoog.
The instrument is a squeezable multi-coloured cube that emits a sound like a clarinet.
Pete Sparkes from the charity Drake Music Scotland explained how it works.
''Inside is a sensor that detects pressure so as you push or twist, you get different notes.
"As Stephanie squeezes harder, the notes get louder and as she squeezes more softly, it's a softer sound. It's a very expressive instrument.''
Regular sight
The piece also shows off the talents of 17-year-old Chris Jacquin, who uses so-called brainfingers to play.
Chris - who has cerebral palsy - wears a special headband and then reads and controls the musical score by movements in his jaw. The headband connects to the computer, which plays out the notes.
But very little music has been written for these instruments. So as part of the cultural celebrations around the Olympics, Scots composer Oliver Searle has been commissioned to write a piece showing what the musicians and the new technology can do, and how they fit into an orchestra.
Dr Searle said: ''Part of this project was trying to write specifically for these so you could say 'this is a skoog piece, this is a piece for soundbeam and chamber ensemble or this is for brainfingers'.
"Not only have we used these instruments but there are also solos for them.''
The three musicians are playing alongside students from the City of Edinburgh Music School.
The show Technophonia hopes to demonstrate how technology can aid disabled musicians perform on an equal footing with their peers, and that skoogs, soundbeams and brainfingers could become a regular sight in orchestras and bands.
Technophonia has its premiere at the Queen's Hall in Edinburgh on Friday and has another performance in Glasgow.
Next month the musicians take it to London's Southbank Centre, where they will perform as part of the PRS New Music 20x12 commissions for the Cultural Olympiad, which celebrates the 2012 Games.