Edinburgh Legionnaires' outbreak: Five people launch legal action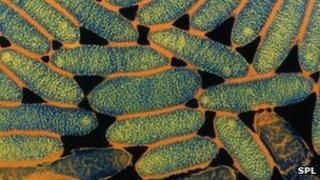 Five people are now taking legal action over the outbreak of Legionnaires' disease in Edinburgh that has left two people dead.
There have been 42 confirmed cases and 47 suspected cases, centred around the south west area of the city.
Health chiefs believe the outbreak has peaked, with the number of cases now static.
The source has yet to be confirmed, although the investigation has focussed on industrial cooling towers.
Last week, Edinburgh man Terry Holleran, 55, instructed specialist illness lawyers at Irwin Mitchell to help him find out how the outbreak occurred and what can be done to prevent it from recurring.
Mr Holleran, from Saughton Mains, became ill on 5 June and was treated in hospital before being sent home.
He said: "Too many people have been affected by this and it is time that we all got some answers."
Irwin Mitchell are now understood to be acting on behalf of four others who have fallen ill, and the firm said it was receiving ongoing inquiries about the outbreak.
Improvement notices
The first man to die was Robert Air, 56, from the Seafield area of the city, and the death of a second man was reported on Friday.
The Health and Safety Executive has issued improvement notices at three sites, including the North British Distillery in Gorgie and pharmaceuticals firm Macfarlan Smith.
The National Museum of Scotland, in Chambers Street, has also been contacted by investigators, but its improvement notice relates solely to the training of staff and not to the operation of cooling towers.
On Saturday, the Scottish government confirmed that one previously suspected case of the disease had been confirmed, but the overall number of suspected and unconfirmed cases was unchanged.
Health Secretary Nicola Sturgeon said: "I would like to take this opportunity to again express my sincere sympathy to the friends and family of the patient who passed away yesterday. My thoughts are with them at this very difficult time.
"This is an extremely sad development. However, it is reassuring that the number of cases involved in the outbreak remains static and this is further evidence that the outbreak has reached its peak."