Infection control letters sent to North Berwick dental patients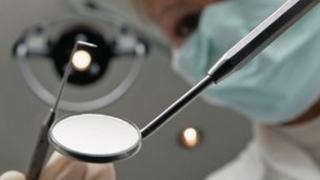 Letters have been sent to thousands of patients at a dentist clinic in North Berwick after concerns over infection control measures emerged.
An inspection at Law Road Dental Practice found some procedures, including instrument decontamination, did not meet national standards.
NHS Lothian said the risk of infection was low.
It has written to 3,500 patients and staff and said it has been reassured procedures are now satisfactory.
Concerns were raised following a practice visit by public health and environmental health representatives.
They advised that some infection control procedures, including decontamination for a small number of instruments, did not adhere to the national standards.
NHS Lothian said patients registered at the independent practice between 5 February 2009, when it changed ownership, and 23 May 2012 had been informed.
Dr Christine Evans, consultant in public health medicine at NHS Lothian, said: "We are working closely with local and national experts and have concluded there is a very low risk of infection to patients.
"While general infection control procedures were in place, it was found that a small number of infection control procedures did not comply with national standards.
"Our priority is always the safety and welfare of patients and NHS Lothian has therefore decided to write to inform them of this matter. The letter stresses that no action is required by the patient, but further advice and testing will be available if anyone remains concerned having read the letter and after calling the dedicated helpline."
She added: "We have taken similar action to inform staff employed by the practice."
The Law Road Dental Practice has both NHS and private patients.
A dedicated helpline - 08000 28 28 36 - has been set up where people can get further advice about health concerns, including for blood borne viruses such as Hepatitis B, C and HIV.
The health board said the dental practice had cooperated with the investigation and would continue to be monitored.