Grenade in Edinburgh garden sparks alert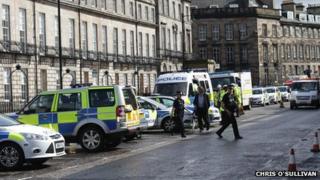 Bomb disposal experts have carried out a controlled explosion on a hand grenade found in an Edinburgh garden.
The device, believed to be from World War II, was unearthed during excavation work on Thursday.
Police and the Explosive Ordnance Disposal Unit were alerted and the area around Melville Street was cordoned off.
Lothian and Borders Police said the grenade was detonated at about 10:30.
A spokeswoman said it did not present a serious risk to the public.
Melville Street has now been reopened.