'Pioneer pilgrims' re-open ancient route from Edinburgh to St Andrews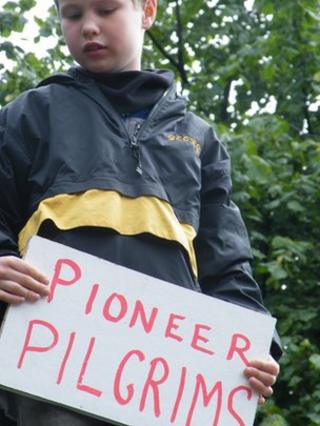 Cardinal Keith O'Brien led the small group of walkers out of St Mary's Cathedral in Edinburgh and across Queen Street, to set off on their pilgrimage.
As we waited at the lights, a man in a high-visibility jacket asked for his blessing on the capital's roadworks.
"Do you need it?" the cardinal asked.
"Yes, we do," the workman replied.
Pilgrimage is about remembering "our journey toward heaven", Keith O'Brien told me.
And the revival of an ancient route from Edinburgh to St Andrews is also an opportunity for Christians from different backgrounds to walk together.
Rev Andrew Patterson, Church of Scotland minister of Portobello Old Parish church, agreed.
"It's a case of Roman Catholics and Protestants walking hand in hand together", he said.
"But then it's also worldwide. If you can imagine a Doaist master from China with a Shinto priest from Japan, and a Buddhist abbot from Mongolia, that is wonderful.
"Or a Muslim sheikh with a rabbi. We find common ground in pilgrimage."
The group of about 15 people who set off on the first leg of the journey to Fife weren't quite so exotic. But there were as many reasons for going on the pilgrimage as there were people taking part.
Eileen, a teacher from Coatbridge, said she wanted to help reinvigorate a pre-Reformation pilgrimage.
She was also seeing if the walk would be suitable for some of her pupils.
"There is a fantastic movement in Catholic education called the Caritas Award. And we're hoping that perhaps our sixth year, who've volunteered for that, might want to do part of this walk next year," she said.
Morag from Hamilton and Renee from Bothwell are part of a small group who are planning to walk the Camino de Santiago de Compostela, a famous pilgrimage route in northern Spain.
"We thought this would be a good rehearsal. See if we're all friends by the end of it," Morag joked.
"I'm not religious", Renee added. "I feel that doing things like this makes you think more about yourself."
The women said their other motivation was to add tales of pilgrimage to the store of stories they're collecting to tell their grandchildren.
The self-proclaimed group of "pioneer pilgrims" are walking the route thanks to organiser Hugh Lockhart, a member of the congregation at St Mary's.
He said he was inspired by the Camino.
"When it was revived in the eighties there were only about 80 who started on it. Now they have about 200,000 (a year).
"I would hope within the next 10 years we'll build up to substantial numbers coming from all over the world to Scotland, and to St Andrews."
He explained that the route from Edinburgh, which used to attract thousands of pilgrims in the 11th and 12th Centuries, was only the beginning.
"We've got other routes being planned from Lancaster, other entry points to Scotland.
"They'll be from Stranraer, from Oban, from Aberdeen, and probably from Hexham and Newcastle. And that's where the original relics of St Andrew came from."
The group walked slowly out of Edinburgh, and joined a cycle path encouragingly signposted to South Queensferry.
Whether by careful planning or by coincidence, we happened to reach a pub in Cramond just in time for lunch.
But when we set off again things all went a bit wrong, at least for me.
I don't know how it happened, but I ended up lost.
I waited on the track for the stragglers I thought would be behind us. But they never came.
Then I started getting slightly anxious text messages asking where I was.
So while some of the pilgrims might well have been guided by the Spirit of the Lord, I have to confess I ended up being guided by the maps app on my smartphone.
But I couldn't stop thinking of the words of the hymn: "There's no discouragement will make him once repent his first avowed intent to be a pilgrim."
So I pressed on, and eventually arrived in South Queensferry - the end of the first leg of the route.
I splashed about in the sea for a while, looking across at the road bridge to the left and the massive girders of the rail bridge to the right.
Some of the group planned to spend the night there. Others were heading home to carry on later from where they'd left off.
But everyone was determined to finish the route they'd started.
I, however, headed for the bus stop, to get the number 43 back to Edinburgh and then the train home.