Hall's of Broxburn closure: Council 'committed' to saving jobs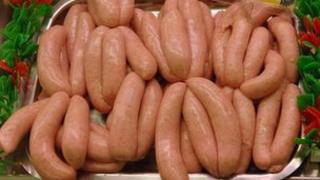 Councillors have held an emergency meeting to discuss the threatened closure of the Hall's of Broxburn meat processing plant in West Lothian.
The factory's owner, Vion, said it had been losing £79,000 a day.
West Lothian Council leader John McGinty said the local authority was "fully committed" to doing what it could to save jobs at the factory.
He said it was vital to examine all the options to keep the 1,700-employee plant going.
The factory slaughters pigs for processing into meat products, including sausages. It also makes beef sausages, black pudding and haggis.
Dutch food company Vion announced last week that it was set to close the plant due to "unsustainable losses" and over-capacity in the UK meat industry.
Staff have been told that a 90-day consultation will take place.
An emergency task force, involving the Scottish government and West Lothian Council, has already met and will continue to discuss the crisis.
After Tuesday morning's meeting, Mr McGinty said the closure would have "a devastating impact on local people, families, communities and businesses".
"The council's focus is on Vion retaining jobs at the Broxburn plant," he said.
"We have asked for a full explanation of how this situation came about and we are pressing Vion to ensure that every option is fully explored."
Mr McGinty added: "Today, the council executive has agreed that the major objective for all concerned must be to safeguard the future of the plant, and calls on all stakeholders to work together to deliver a solution which ensures continued and sustainable production at the plant and protects vital local jobs."
The council said it would write to the first minister and Scottish secretary, as well as the company and a union, to express its concerns.