Edinburgh trams: York Place closes to cars for tram works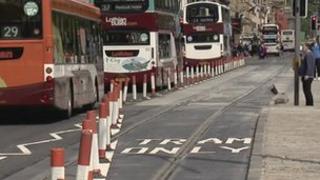 One of the busiest roads into Edinburgh city centre is to close to cars on Saturday as the latest phase of tramworks gets underway.
Most of Princes Street reopened to traffic a fortnight ago after months of tram-related work.
However, now work starts on the final section of the tram route in nearby York Place.
Buses will be allowed to go along York Place until September when it will shut to all traffic until the end of 2013.
The bus station in St Andrew Square will also be out of action temporarily.
Critics said it will create chaos because the east end of Princes Street still has not opened.
However, Edinburgh City Council said the start of work on this final section of the tram route is an important step forward.
Lesley Hinds, Edinburgh City Council's transport convener, said: "Following the reopening of Princes Street last weekend, the start of work on the final section of the tram route is another important step forward for the project.
"I am acutely aware of the concerns that local residents and businesses have as to the effect these works will have on traffic in the city centre and we will continue to take their views into consideration.
"The team will consider any measure with the potential to reduce disruption and, as work progresses, our plans will remain under constant review."