Pet degu found in Edinburgh pub beer garden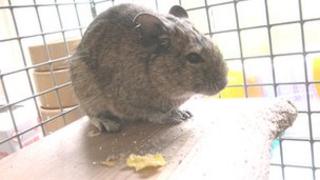 An escaped or abandoned pet degu has been found in a beer garden in an Edinburgh pub.
Now named Bud, the rodent, which originates from Chile, was spotted in the cobbled yard at the Horseshoe Inn on Gorgie Road on Monday.
Pub owners at first thought the rodent was a baby squirrel or chinchilla.
Bud the degu is now being cared for at the Scottish SPCA's Edinburgh and Lothians Animal Rescue and Rehoming Centre.
Inspector Sarah Gregory, of the Scottish SPCA, said: "They'd given him some bread and water and he was none the worse after his day at the pub.
"We're not sure how this little degu came to be found outside. He may have escaped from home or he may, sadly, have been abandoned.
"If no-one comes forward to reclaim Bud then we'll be looking to find him a loving new home."
Degus are active, intelligent and sociable creatures that enjoy living in pairs or small groups.