Brave sound at Royal Edinburgh Military Tattoo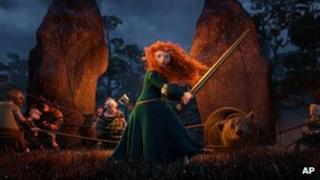 A military take on the Disney Pixar's Brave soundtrack is to feature at this year's Royal Edinburgh Military Tattoo.
More than 220,000 spectators are due to attend the 62nd Tattoo, which opens on 3 August and runs for three weeks.
Dennis the Menace and Minnie the Minx will also take to the stage at Edinburgh Castle to help mark the Queen's Diamond Jubilee.
An orchestral re-enactment of the Queen's Coronation of 1953 is expected to be the climax of the evening.
It will feature the preparations, crowds lining the street, bands parading, the Abbey waiting for a princess, the solemn processional, the anointing of a Queen, and the oaths of allegiance.
The 90-minute show will feature traditional items alongside state-of-the-art production technology, including graphic installations, as it also celebrates the country's cultural and creative heritage in events taking place to mark one year of Creative Scotland.
As well as Pictish warriors and cartoon characters, the story of Scotch whisky will also be told.
'Little menace'
Brigadier David Allfrey, producer of the Tattoo, said: "These celebrated characters are a universal element in our national mix.
"We have grown up with comics and some of us even enjoy them into adulthood. Everyone relishes the prospect of a little menace.
"While the Tattoo seeks to entertain and inspire it is always good to not take ourselves too seriously."
A 100-strong group of young pipers, drummers and dancers from Queen Victoria School in Dunblane will perform at the event, as will the Tattoo's own Highland dance troupe.
A percussion display will be provided by the Top Secret Drum Corps from the Swiss city of Basel while the the Norwegian Armed Forces will be represented by The King's Guards Band and Drill Team.
Pipe bands from Melbourne, Canberra and Sydney help complete the line-up.
The evening will draw to a close with a rendition of Shirley Bassey's hit Diamonds Are Forever and Auld Lang Syne.