National Museum of Scotland in eight new galleries plan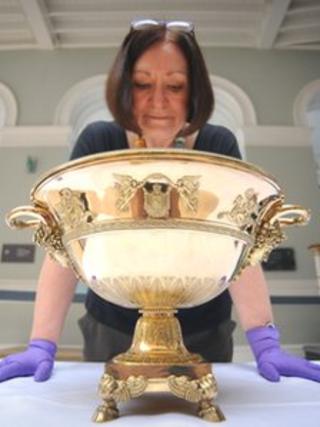 The creation of eight galleries at the National Museum of Scotland has moved a step closer as it looks set to receive almost £5m in lottery funding.
Officials need to raise £11.85m to create the new galleries for both the museum's science and technology and European art and design collections.
The Heritage Lottery Fund (HLF) has now given initial support to the project, which could see it contribute £4.85m.
The project is the next phase of a masterplan for the Edinburgh museum.
More than two million visitors have flocked through the doors of the attraction since it reopened last summer following a £47.5m renovation.
Colin McLean, head of HLF in Scotland, said: "The transformation of the National Museum of Scotland has been a runaway success, surpassing all expectations.
"It has rekindled people's interest in our history and heritage, with millions enjoying the fascinating artefacts on display.
"HLF is delighted to give its initial support to a project which will build on this triumph, bringing many more of Scotland's treasures out of storage and on public display for the first time."
Around 75% of the objects in the new galleries will be displayed for the first time in a generation or more, according to the museum.
A tea service created for Emperor Napoleon in 1810, the world's first pneumatic tyre invented by John Boyd Dunlop in 1888 and the Nobel Prize gold medal awarded to Sir James Black for the discovery of beta blockers and anti-ulcer drugs are some of the items to go on show at the Chambers Street site.
High chances
HLF has awarded a "first-round pass" for the £4.85m grant as an endorsement of the outline proposals. It means the project meets the criteria for funding.
However, a pass does not guarantee the applicant will receive a grant but the chances of getting one are high.
Work is under way to bring in the remaining money needed to make the project a reality.
Dr Gordon Rintoul, director of National Museums Scotland, said: "We are absolutely delighted that the Heritage Lottery Fund has awarded funding for the next stage in our masterplan for the National Museum of Scotland.
"This grant will enable us to move forward in creating a further eight new galleries, opening up access for everybody to our outstanding national collections of science and European art. The National Museum of Scotland is already one of the world's great museums. This investment will further enhance its appeal and international importance."