More road works for Leith Walk in Edinburgh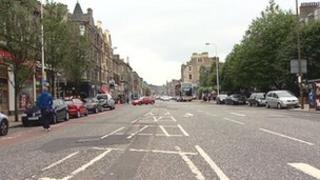 Residents of an Edinburgh street are bracing themselves for 18 months of disruption due to a £5.5m upgrade.
The works to Leith Walk include road resurfacing, environmental improvements and the reinstallation of art work removed for tram works.
The work will start in September if plans are approved on Tuesday.
Businesses and residents want reassurances the impact would be minimal, due to York Place being closed for the trams project.
Leith Walk and Constitution Street will be resurfaced from Picardy Place Roundabout to Bernard Street Junction. The London Road roundabout will also be landscaped.
Pigeons sculpture
Junctions and crossings are also to be upgraded if the plans are approved.
The Sherlock Holmes statue, the London Road Clock and the Pigeons sculpture will all be returned to the street.
Funding has come from the tram project budget (£2.3m) and Edinburgh City Council's efficiencies programme (£3.2m).
Lesley Hinds, Edinburgh City Council's transport convener, said: "This is the kind of boost that this important route needs and a vital investment in the area's future.
"Residents and businesses have been affected by the tram works so I think it's only fair that this iconic street is now returned to its former glory.
"This programme goes even further than that to provide environmental improvements such as landscaping and general upgrading that will provide a significant benefit for many years to come.
"We will continue to meet with members of the local community to make sure that our plans meet with their expectations and we will work with them to reduce disruption as far as possible."