Edinburgh's historic King's Theatre in £2.6m revamp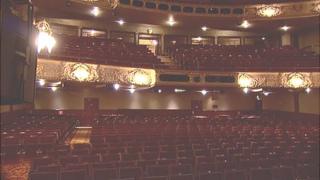 A historic Edinburgh theatre has had a £2.6m refurbishment including a new roof and revamped foyer.
The King's Theatre, which was built in Leven Steet in 1906, has also been made wind and water-tight and had extensive stonework repairs.
A new box office, new carpets, upgraded facilities for wheelchair users and improved ventilation to the auditorium have also been added.
The building is due to reopen to the public on 11 August.
The works were completed in June, having begun on site in September 2011, although the theatre was able to remain open until the end of pantomime season in January.
The works have been funded by Edinburgh City Council, Historic Scotland and The Nancie Massey Trust.
New seats have also been made and installed in the Stalls and Dress Circle. They are replicas of a 'Lazarus' style seat, popular in the 1900s, which have more leg-room.
Seating in parts of the Upper Circle has also been improved.
The next stage of the refurbishment, which would include reflooring the upper circle and replacing the seats and repainting the ceiling fresco, is yet to be planned.
Richard Lewis, Edinburgh City Council's culture and leisure convener, said: "From The Royal Shakespeare Company to the Gang Show, from the best of London's West End to Stanley Baxter, the Grand Old Lady of Leven Street has been a firm Edinburgh favourite for over a century.
"This essential investment will ensure that audiences of all ages can continue to enjoy shows at the King's in comfort for many more years to come."
Duncan Hendry, chief executive of the Festival City Theatres Trust, said: "The first stage of the restoration project has made significant improvements to the front of house areas and the auditorium - our audiences will see and feel a real difference and we look forward to welcoming them back."
The works, designed by Edinburgh-based architects Smith Scott Mullan Associates, are only the third significant refurbishment the theatre has undergone in more than 100 years.