Woman caught in fire's backdraft in Edinburgh flat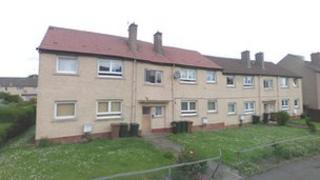 A woman has been taken to hospital after she opened her door into her stairwell which was on fire and the backdraft blew into her Edinburgh flat.
The woman was treated for smoke inhalation and an abrasion to her head following the incident in Captain's Drive at 21:10 on Thursday.
The additional oxygen from opening her door caused the fire to blow back into her flat.
One flat in the stairwell was home to three dogs, one of which died.
Another dog had to be revived by fire crews.
A man was treated at the scene for smoke inhalation.
A Lothian and Borders Fire and Rescue Service spokeswoman said: "There was extensive damage. Occupants of two of the flats will have to be rehomed.
"We are treating this as a suspicious fire.
"There was rubbish at the bottom of the stairwell which we think is where the fire started."