Tributes paid to former MEP Alex Falconer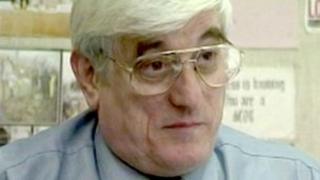 Tributes are being paid to former MEP for mid-Scotland and Fife Alex Falconer, who died on Sunday.
Mr Falconer represented the area from 1984 to 1999. He had been suffering from cancer.
Former prime minister Gordon Brown, who was a close personal friend, said Mr Falconer spent his life working for the Labour movement.
Mr Brown, Labour MP for Kirkcaldy and Cowdenbeath, said he was also a dedicated trade unionist.
He said: "Alex Falconer was my friend and was one of the most dedicated and committed trade unionists and campaigning politicians that I have ever had the privilege to know and work with.
"Throughout his life he never stopped caring about people and standing up for fairness and against injustice wherever he saw it.
"Today I am thinking of his wife Margaret and his family."
'Sadly missed'
Johann Lamont, Scottish Labour leader, said: "I knew Alex Falconer for many years as a powerful champion for working people and a great advocate for tackling inequality.
"He was a big influence in shaping the party's thinking, as an activist and later as a member of the European Parliament, and was a strong campaigner for a Scottish Parliament.
"He will be sadly missed and our thoughts are with his family."
Michael Connarty, MP for Linlithgow and East Falkirk, said: "If ever there was a living advert for the benefits of one member constituency-based representation in the European Parliament it was embodied in recently deceased Alec Falconer.
"Above all Alec Falconer was an honest and honourable person. It was a pleasure to know him and we are all much poorer for his passing."