Storytelling marathon at Edinburgh Fringe Festival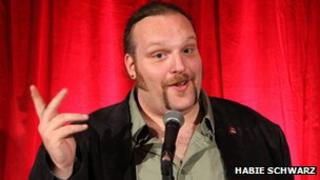 A 24-hour storytelling marathon is taking place at this year's Edinburgh Fringe festival.
Grant's True Tales Festival of Storytelling is on at Riddle's Court - a historic 16th Century house on Edinburgh's Royal Mile.
Storytellers from around the world are taking part in the show, which ends on 16 August at 12:00.
Organisers said the event provides an antidote to the frenetic, 24-hour way of life.
Peter Aguero, the show's creator, said: "People have this notion of being connected through social media and our phones, computers and devices but it's not a real connection - instead of being connected to another human you're connected to a device.
"With storytelling you get this immediacy of energy transfer between the listener and the storyteller and people are really drawn to that.
"I think it's an instinctual thing - when someone begins to tell a true personal story you get intrigued and you want to listen."
Global champion
Comedian Alan Anderson said the show was an example of the more innovative performances on offer at the Fringe.
He said: "The best thing about the Edinburgh Fringe is that performers and audiences are able to sample the best and most innovative performances and events in the world.
"The 24-hour storytelling marathon really captures the true spirit of the Fringe by gathering together some of the biggest names alongside lesser known performers and the general public, each sharing their own stories."
At the show an award for the "global champion" of storytelling will be presented.
Over the past five months, organisers have held local storytelling competitions in countries including Bulgaria, Canada, Israel, Lebanon and South Africa.
The finalists have been invited to Edinburgh to perform - and one will be crowned overall winner.