Former police inspector Richard Munro attacked in jail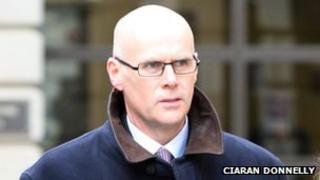 A former Fife policeman who was jailed for five years for withholding evidence in a case has been been attacked in prison in Dumfries.
Richard Munro, 53, is understood to have been hit by pool balls stuffed in a sock earlier this month.
Dumfries and Galloway Police have confirmed they are carrying out an investigation.
A spokesman said no-one had been arrested and inquiries were continuing into the matter.
Munro was found guilty in June of attempting to defeat the ends of justice, after a trial at the High Court in Edinburgh.
As a detective inspector he led the investigation into the killing of Andrew Forsyth in Dunfermline in 1995.
Steven Johnston and Billy Allison were jailed for murder then later acquitted.