Cairin McGarry jailed for West Lothian flat knife attack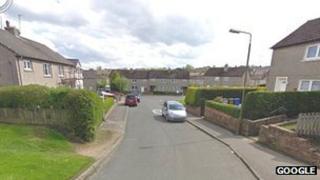 A man who repeatedly stabbed his sister's boyfriend in a West Lothian flat has been jailed for three years.
Cairin McGarry inflicted seven wounds on Patrick Galt during the disturbance in Armadale on 18 November 2011.
McGarry, 24, was originally charged with attempting to murder Mr Galt, 20, in the attack in Shaw Avenue.
But, the Crown accepted his guilty plea to a reduced charge of assaulting him to severe injury by repeatedly striking him on the body with the knife.
Advocate depute Stephen O'Rourke said at the High Court in Edinburgh when McGarry had arrived at the flat he had found Mr Galt in the company of his sister Kayleigh Liddle.
They had been arguing and his sister was distressed and McGarry challenged him about this.
The prosecutor said McGarry was aware of difficulties between his sister and Mr Galt.
Kitchen knife
Mr O'Rourke said at one point McGarry, of no fixed abode, was hit on the back of the head with a bottle in the kitchen and retaliated by throwing a bottle at Mr Galt, which missed but broke a window.
McGarry was again hit with a bottle.
McGarry returned to the kitchen and felt a blow to the back of his head, stumbled and got back up.
Mr O'Rourke said: "When he turned around he was faced by Galt who was now holding a kitchen knife."
The two men got into a struggle and the knife fell to the floor. McGarry picked up the weapon and stabbed Mr Galt seven times during the struggle that followed in the early hours of the morning.
The advocate depute said: "The accused has no recollection of stabbing Galt. He only remembers coming to on the kitchen floor."
Defence solicitor advocate Ewen Roy said McGarry was "shocked" at what was happening and bleeding profusely from head wounds and was left with scarring.
The judge, Lord Pentland, told McGarry that he accepted that there had been provocation.