Man racially attacked at bus stop in Edinburgh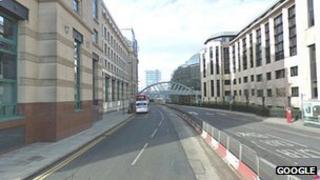 An English man who was standing at an Edinburgh bus stop was punched and racially abused, police have said.
The 66-year-old suffered a broken cheekbone in the attack after asking a man to stop shouting abuse at people in the queue on the Western Approach Road.
The assault, which was witnessed by the victim's wife, happened shortly before 22:00 on Friday 3 August.
The attacker is in his mid-20s, 5ft 10ins tall and was wearing a white shell suit top and white trainers.
Det Sgt Dave Pinkney, of Lothian and Borders Police, said: "The victim, who is English, stepped in to prevent other people at the bus stop being harassed by the suspect and has suffered a painful injury to his face as a result.
"We are now keen to speak with anyone who was in the queue at the time and remembers seeing this confrontation.
"Similarly, anyone with any other information that can assist with our enquiries, or who can help us identify the male responsible is asked to contact police immediately."