Edinburgh's Moubray House to be gifted to Historic Scotland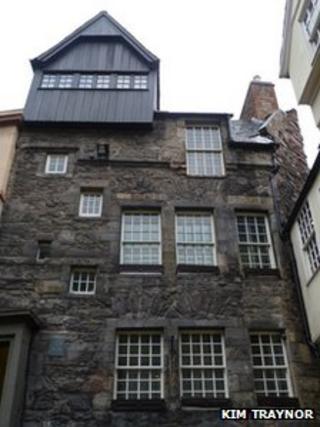 One of Edinburgh's oldest houses is to be gifted to Historic Scotland by its American owner under a unique agreement.
Moubray House on the Royal Mile will be handed over within the next 10 years so it can be opened up to the public.
Its most famous former resident is Robinson Crusoe author Daniel Defoe.
The A-listed tenement, which was built by Robert Moubray in 1477 and stands next to John Knox House, will be run as a new visitor facility.
It was bought by American Debra Stonecipher five years ago, after she fell in love with it while retracing her Scottish roots with her grandmother.
She has spent the last two years completing renovations, which have restored many original features.
The building reflects the fashions of interior design, from its Scottish Renaissance board-and-beam painted ceiling to its later plaster ceiling moulded with exotic fruits and flowers.
The property is now estimated to be worth £1.5m.
'Privilege and joy'
Ms Stonecipher said: "It has been a privilege and joy to be able to live in, and to restore, a house that captures over 500 years of Edinburgh's history and culture here on the Royal Mile.
"I am thrilled to have come home to my Scottish roots, and now to give, in my grandmother's name, this very special and cherished house back to the people of Scotland for all time."
Elizabeth McCrone, from Historic Scotland, said Moubray would be "a fantastic addition" to the agency's estate.
"This house provides us with a snapshot of how properties in Edinburgh's Old Town were built and evolved over the centuries," she said.
"The agency looks forward to welcoming the house into the estate and offering a new visitor experience in the city."