Bright red bird recaptured by Edinburgh Zoo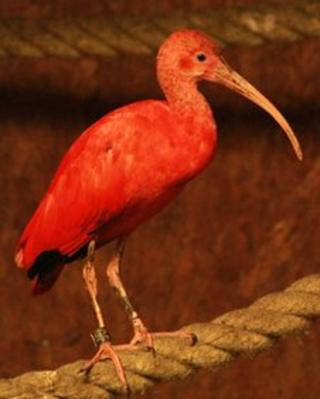 A rare bright-red bird which escaped from Edinburgh Zoo last week has been recaptured about four miles away.
Keepers noticed the scarlet ibis was missing on Tuesday and it was later spotted close to the city centre.
The two-year-old female bird was recaptured on Sunday afternoon on the shoreline in the Cramond area and is now recovering in quarantine.
It is believed the bird escaped after a squirrel chewed a hole at the top of its cage.
The ibis has been at the zoo since 2010 and shares her enclosure with the six other members of her flock and 36 resident flamingos.
Colin Oulton, team leader of the bird section at Edinburgh Zoo, said: "It's really quite surprising how far the scarlet ibis flew, eventually ending up at the shore at Cramond.
"Being flock birds, you would expect them to stay quite close to the rest of the flock."
He said the escaped bird had been perching in places that made it difficult to recapture her and it took time and patience.
The bird was eventually tempted down into a trap constructed by zoo staff with a mixture of her favourite mussels, mealworms and prawns.
Mr Oulton added: "The bird has been quite relaxed about the whole thing, choosing to stay in the Cramond area probably as it is quite close to the seashore.
"The ibis will have been able to go down onto the mudflats and most likely catch food for herself."