Jay Soso jailed for raping and killing Marie Reid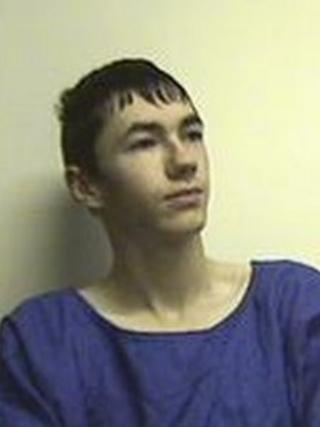 An Edinburgh man who raped and killed a pensioner who treated him like a grandson has been jailed for 12 years and eight months.
Jay Soso, 20, from the Tollcross area of the city, attacked 63-year-old Marie Reid in her sheltered home in Easter Drylaw Way in November 2010.
Mrs Reid lay dead for up to four days before her body was discovered.
Soso was initially charged with murder, but admitted a reduced charge of culpable homicide.
At the High Court in Edinburgh, judge Lady Dorrian said Soso had been aware that his victim, who lived alone and suffered from poor health, was vulnerable.
She told him: "You knew her and there was an element of trust in the relationship you had with her.
"The rape was clearly forcible and violent, causing injuries to her and leading to her death."
She told Soso he would have been detained for 14 years, but for his guilty plea which meant the victim's family members did not have to give evidence.
Lady Dorrian also ordered that he should be kept under supervision for a further five years for the public's protection.
Soso was led from the dock to start his sentence to shouts of "Yes" from the public benches.
Mrs Reid was found at her sheltered flat four days after the fatal attack, with blood staining on her nightdress. It had been decided that the death should be treated as not suspicious, but Mrs Reid's son Paul contacted police to raise family concerns.
The court heard that Soso had met his victim's son after her death and offered his condolences.
The rapist had stayed with his mother, next door to his victim, until early in 2008 when they moved to England. Soso later moved back to Edinburgh and got a job with a fishmonger.
Low intelligence
Prosecutor Leanne Cross: "Mrs Reid's GP describes her as having the health of a female around the age of 80, being extremely frail and unable to walk even short distances without becoming breathless.
"The deceased had been unable to leave her home in the six weeks prior to her death, such was the state of her health."
Mrs Reid's cause of death was certified as unascertained.
Soso initially told police that he knew Mrs Reid, but had not seen her for a couple of months. However, CCTV evidence later established that he had spent 30 to 40 minutes at her home on the evening of her death.
He also provided swabs and forensic scientists later established there was a DNA match with samples found on the victim.
Defence counsel Brian McConnachie QC said it was clear that Soso had a very low level of intelligence.
He said: "It is a tragic case, in so many ways, for Marie Reid and her family.
"Her untimely death has undoubtedly affected them and clearly they will have to live with the consequences of this forever. So too, of course, will Mr Soso."