Encyclopaedia Britannica to go online for school pupils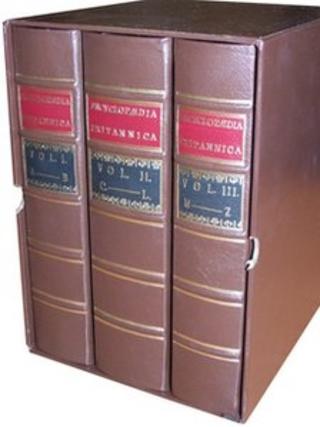 Pupils will now be able to search the Encyclopaedia Britannica online for free, with the resource being launched in Edinburgh, the city where it began.
The printed edition ended its run in March this year, but the digital facility will be available to every pupil until the end of October.
The package has been specially created for schools, and is split into three distinct age-groups.
Britannica was founded in the Scottish capital in 1768.
It was started amid the great intellectual fervour of the Scottish Enlightenment.
According to one chronicler of Britannica history, Edinburgh in the mid-1700s was "a city on the verge of a golden age, a centre of learning and a home of writers, thinkers, and philosophers, wags, wits and teachers".
The economist Adam Smith had recently had his famous book The Wealth of Nations published, philosopher David Hume had only just returned to his birthplace in Edinburgh, Samuel Johnson's biographer James Boswell had just finished his studies while literary heavyweights Sir Walter Scott and Robert Burns were still in their infancy.
Pirated edition
It was in this environment that Colin Macfarquhar, a printer, and engraver Andrew Bell, decided to create an encyclopaedia.
They hired the scholar William Smellie to edit the work, which would be arranged alphabetically, "compiled upon a new plan in which the different Sciences and Arts are digested into distinct Treatises or Systems".
The first edition was published one section at a time over a three-year period, beginning in 1768. A pirated edition first arrived in the US in 1790.
Ian Grant, managing director of Encyclopædia Britannica UK, said: "Britannica holds a special place in Scottish history and education and we're extremely proud to be returning to our roots and inspiring a new generation of learners, nearly 250 years after we started.
"Our ideals of providing clear, current and correct educational information were inspired by our Scottish founders and remain in place today.
"And by bringing Britannica home, we want to invite Scottish learners, be they student, parent, or teacher, to rediscover Britannica in the 21st Century."