Wester Hailes Education Centre praised for exam improvement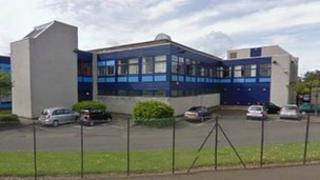 Councillors in Edinburgh have praised the dramatic improvement in the exam results of a secondary school in one of its toughest areas.
Three years ago Wester Hailes Education Centre had some of the worst exam results in Scotland.
Just 1% of fourth year pupils passed five Standard Grades at credit level - but the figure now stands at 21%.
The improvement has been attributed to a system of teacher mentoring to address attainment and behaviour.
The city council said it hoped the school would be a template for similar change in other schools.
Wester Hailes Education Centre has said its success is largely because teachers mentor about 15 young people each for 25 minutes every morning.
They encourage the pupils, check their homework, look at agreed targets in different subjects and closely monitor their record of attendance and behaviour.
Head teacher Sheila Paton said: "We are now talking about learning and our young people are talking about learning with their mentors and that has had a significant impact.
"It sets the tone for the rest of the day and it puts learning back at the heart of the school, it's really central to everything we do".
The council said it hoped to see similar improvement in other schools at a time when the government is hoping to see an upturn in the number of disadvantaged children getting into jobs and university.
Council Education Convener Paul Godzik said: "You can see the results in Wester Hailes in a place where some of the children do need that little bit extra, that little bit of boost in confidence and they've responded to that really, really well".
Fifth year pupil Kieran Doherty, 16, said: "Before it was just like people were more worried about what their friends thought but now it's more you're focused on yourself and what you want to achieve."