Edinburgh derailment caused by unsafe switch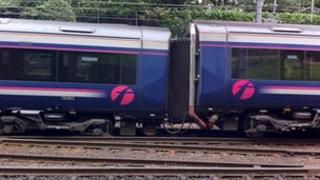 A passenger train derailed because Network Rail failed to notice that a switch rail was worn out and unsafe, accident investigators have found.
The First ScotRail train came off the track close to Waverley Station in Edinburgh in July 2011.
It had been empty apart from the driver and conductor - neither of whom was injured.
The Rail Accident Investigation Branch made a series of recommendations in its report into the incident.
It found that the derailment happened while the three-carriage train was travelling at only 19mph while traversing points in the Princes Street Garden area, as it approached Waverley Station.
The leading bogie of the third coach derailed and travelled for 110m before stopping, but the train remained upright.
The incident affected two lines which were both closed until two days later, causing disruption to trains in and out of Waverley.
Investigators found that the first wheel to derail was not correctly steered by the moveable switch rail to the correct route.
Instead the wheel climbed over the rail, pulling the other wheels of the bogie into derailment.
The report stated: "Three days prior to the accident the left-hand switch rail had been identified as having the potential to cause derailment.
"Although it was worn beyond repair by grinding in accordance with the company standard, a grinding repair was attempted. The subsequent inspection process did not find the switch to be unsafe and it remained in service."
It added that the required prior scoping of the repair, which might have identified the unsuitability of the switch rail for repair by grinding, was not carried out.
"The local practice of maintaining points to safety limits and the lack of guidance on when a switch rail is unrepairable by grinding were underlying factors in this accident," the report concluded.
The RAIB made five recommendations to Network Rail, including the provision of maintenance intervention limits on switches, and the use of automatic lubrication on switches which are vulnerable to wear.
Network Rail said it made changes to ways of working after the accident.
A spokesman said: "Safety is our number one priority and we will review the RAIB report closely.
"We have already made changes in how we manage the maintenance of points and reviewed staff training as a result of this incident."