Minister backs Israeli dance show after Edinburgh protest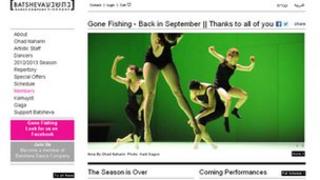 A UK government minister has defended Israeli artists' right to perform following a protest at the Edinburgh International Festival.
Demonstrators disrupted a performance inside the Playhouse Theatre by the Batsheva Dance Company, from Tel Aviv.
Batsheva is partly funded by the Israeli government.
Minister for the Middle East Alistair Burt said he regretted the attempt to disrupt them by a coalition of Scottish pro-Palestinian groups.
The demonstration had been organised by the Don't Dance with Israeli Apartheid campaign.
The show, called Hora, had to be stopped three times due to protests inside the theatre.
Outside about 100 people had gathered to sing, demonstrate and burn tickets.
Mr Burt said: "I strongly support the freedom of Batsheva to appear at the festival, and deeply regret the attempts to disrupt them.
"The UK absolutely opposes the targeting of institutions and individuals for no other reason than they are from Israel.
"It achieves nothing, is divisive and runs counter to the long history of cultural freedom in this country."
A spokesman for the Israeli embassy said: "We are delighted the audience gave Batsheva repeated standing ovations."
He added: "We are committed to ensuring that Israeli British cultural co-operation will continue to flourish."