Bodies of stranded whales winched from Fife shoreline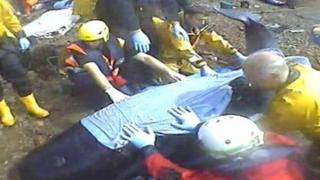 The bodies of 17 pilot whales which died on a Fife beach at the weekend have been removed from the shoreline.
Vets have almost completed their initial investigation into why they stranded.
The carcasses were winched to the top of the cliffs from the beach near Anstruther.
Meanwhile a pod of whales has again been spotted near the Forth Bridges, although its not known if it is the group that was refloated on Sunday.
The numbers reported in the estuary varies between 10 and 24.
Stephen Marsh from British Divers Marine Life Rescue said: "It is difficult to ascertain whether these are the rescued group, the group that did not strand, or a combination of the two.
"The whales are not stressed and seem settled at the moment."
He repeated warnings to people on boats in the area to stay away from the mammals.
He added: "Last night the actions of pleasure craft that had been far too close to the whales caused considerable concern, with one individual having been seen to get close enough to touch the whales and ride between individuals.
"Pleasure craft owners are being asked not to approach the pod as any form of stress may either split the group or cause them to strand and deliberately disturbing whales and dolphins is an offence under the Wildlife and Countryside Act."
Ten whales were refloated on Sunday after being kept alive by BDMLR vets.
They were spotted near Deep Sea World in North Queensferry on Monday afternoon but it was hoped they were heading back out to deeper water.
Cause distress
Fife Council is arranging for the dead whales to be transported north for disposal.
Head of transportation and environmental services, Dr Bob McLellan, said: "All whales have now been removed from the shore to the top of the cliff, where they are being stored.
"The vets and pathologists are finishing off their work before the carcasses are transported up north to the Moray area for disposal."
He added: "The pilot whales that were released back to the Forth successfully have been seen around the Forth Bridge areas.
"On advice we have received, we would urge people in vessels on the Forth not to approach the whales as this could cause them distress."
The stranding incident on Sunday involved pilot whales, approximately 20ft (6m) long.
Three calves were among the whales that died.
Patrols have been taking place at sea and volunteers have been walking along the coastline to check no whales have become stranded again.