Dog dies after falling into sewer in East Lothian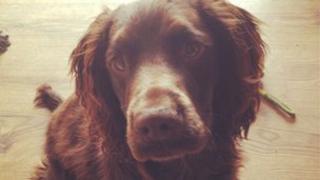 A family pet has died after falling 20ft into an open sewer in an East Lothian field.
Paul Stewart was out walking his one-year-old spaniel Revel in Whitecraig when the animal disappeared from view at about 11:40 on Monday.
The 25-year-old checked the broken storm drain, but found that the puppy had been swept away.
It is thought Revel was washed upstream before being crushed by machinery at a water plant about a mile away.
Mr Stewart, from Whitecraig, said: "I was out walking my three dogs and they were having a great time running about the field.
"But as I looked over I saw Revel just disappear into the ground. I was puzzled, but when I ran over to see her I couldn't believe my eyes as a drain cover was half-missing and I could hear rushing water.
"I called out for her but there was no sign. It is such a horrific way to go."
He said children regularly played in the area, adding: "I dread to think what could have happened.
"It's a disgrace that something like this is allowed to happen - the water company should be checking simple things like this."
A Lothian and Borders Police spokesman said officers had tried to locate the dog.
"However, the animal was swept away by the current," he said.
"Officers maintained a presence in the area to ensure the area was made safe and the manhole secured."
Workmen from Veolia Water UK have now covered the open drain with a heavy metal plate.
A Scottish Water spokesman said the manhole cover had been made safe.
"We are investigating what caused this incident," he said.
"Remaining manhole covers in this part of the network are being checked.
"We are working alongside Lothian and Borders Police in their investigations."