Former kids' club treasurer Margaret Harms denies embezzlement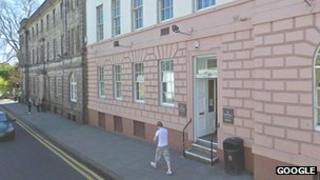 The former treasurer of a childrens' club in Anstruther, Fife, has gone on trial accused of embezzling more than £24,000 from the charity.
Margaret Harms, 48, who was also the chair of East Neuk Kids After School Club, is accused of taking the money between October 2008 and January 2010.
The club's manager Susan Mackie said she first noticed there may be a problem when wages became erratic, with some staff having to chase up payments.
Ms Harms denies embezzlement.
The court heard she was employed as a teller at Lloyds TSB in Anstruther at the time of the alleged offence.
Bank receipts
Ms Mackie, said after she had noticed problems with the payment of wages, other staff at the club thought there might be "something up" with the finances after they "started getting lots of letters from the Inland Revenue saying the business hadn't been paying its taxes".
She said: "At the end of 2009 and early 2010 we started to become aware that something was not right."
During questioning from depute fiscal Aiden Higgins, Ms Mackie said the club's "ad hoc" financial management resulted in money - received from parents, council funding and grants - not being properly recorded and checked when it was banked.
She told the court Ms Harms was originally in charge of taking the money to the bank - the same branch of Lloyds TSB that she worked at - but receipts showing how much had been banked were never disclosed.
Unexplained transactions
The manager also said when she took the money to the branch herself, she found it difficult to get a receipt from Ms Harms, but "felt rude" about chasing her for them as she felt like she was "treating her with suspicion."
Ms Mackie said: "She told me you look after the kids and I will look after the finances."
The court also heard from Ms Harms' manager at Lloyds TSB, Gail Williamson, who said there were a number of unexplained transactions made from a debit card linked to the club's account.
She said the card, which was used by Ms Harms, made cash withdrawals for staff wages at the club, but there were numerous transactions, often made at weekends at locations all over Anstruther, which could not be accounted for.
She said: "The withdrawals at cash points I don't understand, especially as some of the staff were paid via the internet banking service."
The trial, before Sheriff Charlie McNair, continues.