Council apologises over bin problems in Edinburgh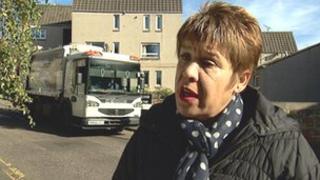 Edinburgh residents who have not had their rubbish collected for weeks have received an apology from the council.
A new waste pick-up service was implemented in the capital on 10 September. Green wheelie bins are now only emptied every fortnight.
The city council has admitted its complaints service has failed to cope with the problems the changes have caused.
Environment convener, Lesley Hinds, said they were addressing the issues.
The new measures have been put into action in a bid to encourage residents to use recycling boxes instead of waste bins.
Residents recycle a third of the city's waste but the figure must rise to 50% by 2014 and 70% by 2025 in order to meet targets.
Cllr Hinds has vowed to amend the waste collection routes in a bid to sort out the problems.
She said: "I would like to apologise to any of the individuals or areas that have suffered, not getting the service I would expect.
"Four weeks in and we are getting to the back of it, we are addressing the issues."