Edinburgh Academicals: £8m revamp of oldest rugby ground unveiled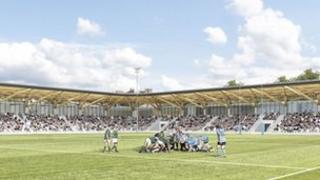 A controversial £8m redevelopment of Scotland's oldest rugby ground has been unveiled in the capital.
The Edinburgh Academicals ground in Stockbridge hosted the world's first rugby international in 1871.
Now plans to build a new stadium with seating for 2,500 spectators, rugby museum and nine shops have split the local community.
Save Stockbridge is campaigning to stop the development going ahead. The club said it must modernise to survive.
Frank Spratt, Edinburgh Academicals spokesman, said: "What we are seeking to ensure is that club rugby can have a proud future, as well as a glorious past.
"The Accies simply cannot afford to pay £100,000 each year for facilities that are simply not up to scratch.
"After an amazing year of sport for Scotland and Britain, it is ironic that we are having to fight so hard to ensure that our sport can continue to thrive in North Edinburgh.
"Rugby was not an Olympic sport this summer, but Rugby Sevens will be in Rio in 2016.
"If the Olympic legacy is to be meaningful, investment in getting young people active in sport has to be prioritised.
"There is no better place to start building the Olympic legacy in Scotland than at Raeburn Place."
'It's inappropriate'
Bruce Thomson, Save Stockbridge chairman, said: "We have more than 2,500 signatures from local people who are opposed to the development.
"We feel very much that its far too big, it's inappropriate for the area.
"We certainly don't mind some type of development but something much smaller.
"Two years ago there was planning permission for a much smaller development where there was no objections as far as I'm aware.
"That type of thing we do not have a problem with. This size is unnecessary."