Solicitors boycott Edinburgh Sheriff Court over legal aid plans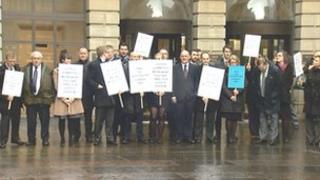 Defence solicitors in Edinburgh are boycotting the custody court at the city's sheriff court in protest at proposed changes to legal aid.
Cameron Tait, Edinburgh Bar Association president, said their action would have a major effect on the work of the sheriff court on Monday.
Mr Tait said the solicitors regretted being forced to take industrial action.
However, he said the proposed changes would "undermine the integrity of the criminal justice system".
The defence solicitors are holding a one-day protest.
They said they felt compelled to act after the Scottish government and the Scottish Legal Aid Board (SLAB) "refused to heed their fears" over a new bill that would "further damage a profession that has had to absorb a series of crippling cuts in recent years".
'Prove disastrous'
Earlier this month, the Edinburgh Bar Association voted unanimously to take action in principle if the government pressed ahead with the bill.
Since then, similar votes have been taken by defence solicitors in Glasgow, Aberdeen, Perth and Dumfries, so further protests could follow.
Defence solicitors fear the changes contained in the new bill "would prove disastrous for those accused of crime, and for the profession".
Under the new plans, contributions to their defence would be taken from anyone with a disposable income of £68 a week, or savings of £750, and they could be liable for the entire cost of their defence, almost £500, in a summary case.
If acquitted, they would not receive a refund, contrary to the practice in England where the Legal Aid Board also collects all contributions.
In Scotland, solicitors will be forced to collect the cash from their clients.
It is feared the system would encourage people to try to represent themselves, and to enter guilty pleas, as both would work out cheaper than going to trial with representation.
Mr Tait said: 'We regret being forced to take this action, but we have been absorbing legal aid cuts for years now and we cannot continue to do so.
"More important than that, however, is the fact that these changes will seriously undermine the integrity of our criminal justice system."
The Scottish government has said about 80% of people receiving legal aid would continue to pay nothing and that the new bill would end a situation where contributions are collected for civil cases but not for criminal cases.