Driver punched in head in road rage incident in West Lothian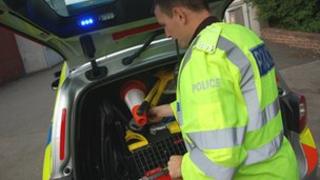 A motorcyclist who punched a male motorist in the head during a road rage incident in West Lothian is being sought by police.
The victim was driving a white Nissan van on the A89 eastbound at Dechmont at 11:30 on Tuesday when he was involved in a minor disagreement with the biker.
The motorcyclist drew up beside the driver at the traffic lights at the B8046 junction.
He punched the wing mirror before punching the driver in the head.
He then turned around and sped off westbound on the A89.
Tanned skin
The attacker was described as white but tanned, of heavy build, 5ft 9ins tall, with a local accent.
He was wearing an open-faced scrambler style helmet with a distinctive front peak, scramble bike clothing, and black leather gloves with plastic knuckle protectors.
The bike was a scrambler-style off-road dirt bike with a registration plate displaying the numbers five and two.
It was also dirty and had chunky off-road tyres.
A Lothian and Borders Police spokesman said: "The victim was unable to defend himself and while he wasn't hurt, he was left badly shaken, and we are appealing for any information that can help us trace the suspect.
"Anyone who witnessed the incident, or who was in the area at the time and noticed the bike, should contact police.
"Likewise, anyone who recognises the description of the suspect, or who has any other information that can assist our inquiries, should also get in touch."