Police advise Edinburgh students about new rape laws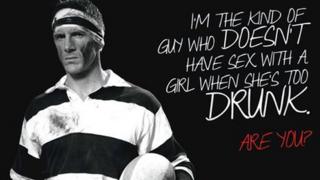 An education campaign about new rape legislation is targeting university and college students in Edinburgh over the festive period.
Police are working with Edinburgh and Napier universities to educate 18 to 27-year-olds about a shift in the law and change in attitudes towards rape.
Officers will visit a number of campuses in the coming weeks.
They are underlining that a person incapable through drink is considered incapable to consent to sex.
Ch Supt Malcolm Graham, from Lothian and Borders Police, said: "With the festive holidays fast-approaching, we know that there will be significantly more young people out in bars and clubs.
"I hope that by working with educational establishments and receiving their support for the campaign, we can reach our target market effectively and educate them about the key areas of change in the legislation."
The We Can Stop It campaign messages highlight that:
Rape is more common than generally realised
Someone who is incapable through drink or drugs is considered to be incapable to consent
Consent to sex can be withdrawn at any time
Male rape is now legally classified as such for the very first time.
The Sexual Offences (Scotland) Act 2009 reformed previous legislation for sexual offences and created a range of new offences relating to sex without consent.