£29m pledged to help West Lothian after Hall's of Broxburn closure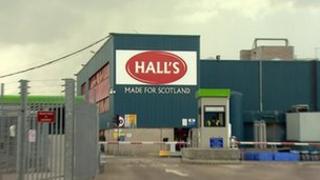 Up to £29m is to be invested to support workers and the communities affected by the closure of the Hall's of Broxburn food factory.
Finance Secretary John Swinney has agreed an economic development package for West Lothian over the next five years.
A total of 1,700 jobs are being lost to the area with the closure of the meat processing plant.
The government said the package would help create 3,000 jobs.
The deal, agreed with West Lothian Council, is a mixture of new and already allocated money.
Mr Swinney said about £16.6m of Scottish Enterprise funding would be made available, along with new resources of up to £12m which would be focused on future training needs.
All the jobs at the Hall's factory are due to have gone by February.
Severe impact
The finance secretary said: "The Scottish government has been committed to doing everything it can to minimise the effects of Vion's decision to close the plant at Broxburn.
"I have personally established and chaired the taskforce over the last six months to ensure that no stone was left unturned in the exploration of options for the site.
"Our focus has always been to work with West Lothian Council to explore all options for the company, provide support for the workforce and mitigate any possible wider impacts but we have had to accept the decision of the company to close the site."
West Lothian Council leader John McGinty said: "The majority of the people involved in the job losses are from West Lothian and this is expected to have a severe and wide economic impact on West Lothian.
"To alleviate this the recovery plan aims to create around 3,000 jobs over the next three to five years.
"In addition, the plan aims to provide support and advice for Hall's staff to help them to maximise their opportunities to retrain or find employment in the future.
"Further the plan aims to create an environment where new businesses will be attracted to locate in West Lothian and in particular to the most affected communities."