Loony Dook: Hundreds make a splash as Hogmanay clean-up continues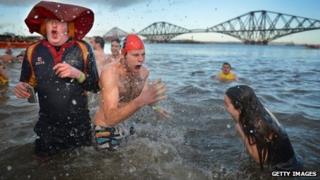 New Year's Day events have been taking place as the clean-up continues after Edinburgh's Hogmanay street party.
About 1,100 people dressed in a range of costumes took a dip in the cold waters of the Forth at South Queensferry for the annual Loony Dook.
The events taking place in Edinburgh on Tuesday included sled dog races in Holyrood Park, street theatre and a triathlon.
About 75,000 people had gathered in Princes Street to bring in 2013.
The event was hailed a success by police and by Edinburgh councillor Steve Cardownie, who described it as "truly fantastic".
Simple Minds, The View and Bwani Junction performed at the Concert in the Gardens on Hogmanay, and there were fireworks throughout the evening.
People travelled to the city from across the world for the celebrations, which are now in their 20th year.
After the event, work began to clear the tonnes of rubbish and remove the safety barriers, stages, scaffolding and giant screens.
On Tuesday afternoon, hundreds of Loony Dookers paraded through South Queensferry before taking the plunge in the Forth to raise money for charity.
Frances Sutton, spokeswoman for Edinburgh's Hogmanay, said: "The Loony Dookers were loving it.
"They marched down the street to a pipe band and took to the water, some only ankle-deep but others went under.
"There were people wearing wedding dresses, there was a Fred Flinstone outfit and a very small mankini. It was brilliant."
A Loony Dook event was also staged at North Berwick on Tuesday.
About 300 people took part in the New Year's Day triathlon in Edinburgh, where competitors must swim 400m at the Royal Commonwealth Pool, cycle 11 miles around Arthur's Seat and then run 3.5 miles.
On Tuesday evening, a huge street theatre event was taking place in the south side of the city.