Mortonhall Crematorium: Baby ashes parents call for truth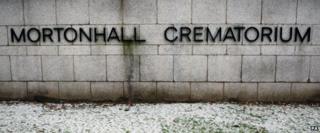 Bereaved parents refused access to the ashes of their dead babies have insisted they need a public inquiry to get to the truth.
Edinburgh City Council has announced an independent review after it emerged Mortonhall Crematorium had been burying ashes in a garden of remembrance.
It is thought the practice was carried out from the 1960s until 2011.
Parents who lost their children have told BBC Scotland they need the truth to complete their grieving process.
It has been suggested an initial inquiry may also reveal wider problems across Scotland.
Edinburgh council expressed "sincere regret" after it was discovered last month that staff at the council-run crematorium had buried the cremated remains of babies in a mass grave, without parents being informed.
On Wednesday, a council report recommended that an independent person be appointed to oversee and direct further inquiries into Mortonhall.
The council has also appointed external auditors to look at thousands of crematorium records to get a comprehensive picture, which would help to deal with the questions and concerns of families.
About 50 people, including some of the families, attended a meeting on Wednesday night, which heard calls for a full public inquiry.
David Henderson, whose daughter Sophie was still born 14 years ago, told BBC Radio Scotland's Good Morning Scotland programme that old wounds had been opened up.
And he said the revelations had created new wounds for his children.
"They've always known that Sophie was our first daughter, that they had a big sister that they quite openly know and talk about being with the angels, but they are now in a way grieving as well for what's happened," he said.
Honesty call
Mr Henderson said parents needed openness, honesty and truth over how this could have happened and who was responsible.
"We just don't think that honesty is going to come through an internal investigation and we think it has to be done as a public inquiry by an outside agency coming in and doing it thoroughly."
Arlene MacDougall, whose son Fraser died after a few hours of life, said she had known her son's ashes had been interred but the revelations of wider practices had been "devastating".
She said: "I don't know what they've done with the babies. My question is, was Fraser actually cremated? Was he cremated in the furnace beside an adult to save money? Or was his tiny, little body interred into the garden of remembrance, or was it his ashes?
"All these questions go round and round and round. The hardest part for me is I have no faith that the council will ever give us the truth."
Mr Henderson echoed the doubts about whether processes were being followed as parents had expected.
Edinburgh City Council's environment convener Lesley Hinds said an independent audit of crematorium records would continue to try to answer the questions and concerns of families.
She added: "Having received these findings I feel it is only right and proper, and taking into account the views of parents, that an independent person now completes the inquiry."
Ms Hinds said that Sands (Stillbirth and Neo-natal Death Society) would be kept informed as the investigation progresses and that discussions over a permanent memorial would continue.