Fertility tests begin on pandas at Edinburgh Zoo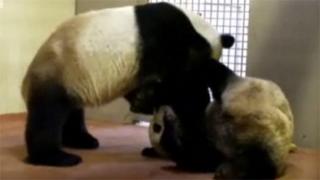 Zoo chiefs have begun fertility tests on Edinburgh's female panda, Tian Tian, ahead of the spring mating season.
The results of the tests will determine when she and male partner Yang Guang are put together.
The tests will give an early indication of when Tian Tian's hormones will be at their peak for mating.
Pandas usually mate between March and May. However, the mating period lasts less than two days and they are kept separate for rest of the year.
Natural light
Iain Valentine, director of the giant panda project at Edinburgh Zoo, said: "There will be a huge focus on working to synchronise both Tian Tian and Yang Guang's hormone cycles.
"As seasonal breeders, panda hormones are dictated by light levels. The indoor lighting levels in their enclosures now simulate those of natural light levels, in line with sunrise and sunset."
He said there would also be an increase in enclosure swapping, allowing the pandas to smell each other's scent and mark in each other's enclosures.
Mr Valentine said this was "a vital aspect, as the male can tell when the female is coming into season by the change in her scent, and the female can tell if the male is sexually mature and capable of breeding by his scent and scent marking skills."