Greyfriars Bobby bronze statue cast up for auction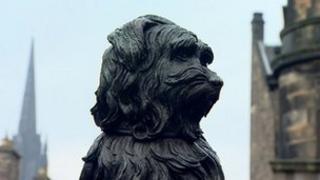 A 140-year-old plaster model used to create the bronze statue of loyal terrier Greyfriars Bobby in Edinburgh is to go up for auction.
The legendary dog is said to have guarded his master's grave in Edinburgh's Greyfriars Kirkyard in the mid-19th century.
Auctioneer Lyon & Turnbull has acquired the plaster prototype which was made for demonstration to Edinburgh Council before the finished statue was created.
It is expected to fetch £1,000.
Greyfriars Bobby was immortalised in bronze by William Brodie, soon after Bobby's death in 1872 and his statue remains a popular tourist attraction.
The company which cast the bronze gifted the model to Chief Constable William Merrilees, of the then Lothian & Peebles Constabulary, after he volunteered to scout for locations for the 1961 Disney film Greyfriars Bobby.
When filming ended Walt Disney gave Mr Merrilees the dog, who was also named Wee Bobby, that portrayed Bobby in the film.
The dog appeared at charity events to help raise funds for good causes and was joint best man at Mr Merrilees wedding in 1968.
Mr Merrilees's granddaughter Margaret Cumming is selling the model at Lyon & Turnbull's auction house in Edinburgh on 26 January, along with a framed hand-tinted Victorian photograph depicting a female with a dog purported to be the real Greyfriars Bobby.
She said: "Wee Bobby had a very special place in our family, and the statue is a happy reminder of him, but in the future I will not have space to keep him. So, sadly, I need to let it go.
"Although I would like it to stay in Scotland, I realise this may not be possible."