Deaf Fife postman bitten by dog leads to police charge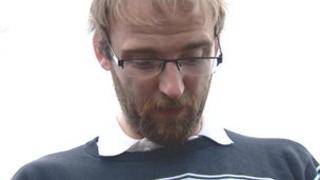 A man has been charged after a deaf postman was bitten by a dog he was unable to hear barking.
Graham Duff was walking through a garden to deliver letters in Saline, near Dunfermline, when he was bitten in the thigh by a mix-collie.
The shaken Mr Duff has been taken off his delivery round since the attack on 19 January.
A 71-year-old has been charged in relation to a dog dangerously out of control, Fife Constabulary said.
The man has been reported to the procurator fiscal.
Mr Duff, who had to take antibiotics after he was bitten, wrote: "I was frightened and shocked".
He added that he stopped his delivery run because he "didn't feel safe".
'Lack of control'
Garry Haldane, a representative for the Communication Workers Union (CWU) and who has been bitten by dogs 18 times while working as a postman in Fife, has been campaigning for postmen to get better protection from dangerous dogs.
"It is a lack of control and understanding and responsibility of the dogs' owners," he told the BBC Scotland news website. "The dog doesn't know it is doing wrong.
"Graham has been working in the sorting office since the attack because he didn't want to go back out on his delivery round. It really shook him up.
"We need action to reduce the risk of this happening to postal workers.
"People who buy dogs need to understand the breed and not allow them to be dominant and make sure they get enough exercise."
Steve Greaves, Royal Mail's safety director north, said: "There are around 4,000 animal attacks a year in the UK on Royal Mail people. These attacks cause great distress and, in too many cases, serious injuries.
"Unfortunately, dog attacks are a hazard faced by our postmen and women every working day.
"Our first priority as an employer is to ensure the welfare and safety of our people, who provide a valuable service to our customers."
He added: "Royal Mail seeks the co-operation of our customers and we encourage the public to take responsibility for keeping their pets under control.
"Royal Mail will actively pursue legal action or support our people in taking legal action against the owners of dangerous dogs."