Mortonhall Crematorium: Sands given £30,000 for families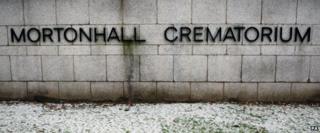 A charity has been given extra funding to support families affected by the crematorium that buried babies' remains without the knowledge of the parents.
Public Health Minister Michael Matheson said the Scottish government has given Sands Lothians a grant of £30,000.
Parents were refused access to their dead babies ashes at Edinburgh's Mortonhall Crematorium. It was burying the ashes in a remembrance garden.
It is thought the practice was carried out from the 1960s until 2011.
Former practices
Dame Elish Angiolini, a former Lord Advocate for Scotland, has been appointed by Edinburgh City Council to lead an independent inquiry into practices at the crematorium.
Responding to a question from Labour MSP Kezia Dugdale at Holyrood, Mr Matheson said that, following a meeting, he asked his officials to explore additional financial support for Sands.
Mr Matheson said: "As a result the Scottish government has been able to provide the charity with some one-off funding to support their work with those affected by the former practices at Mortonhall Crematorium.
"The Scottish government has also made an offer to Edinburgh City Council to provide any support and information to the independent inquiry that may be helpful.
"With regards to the wider issue around guidance and regulations for crematoriums, we have already given a commitment to look at these issues in the coming year with a view to bringing forward further legislation, possibly into 2014, in order to update some of the laws in this area."