Edinburgh Rox jewellery raid: Second man to stand trial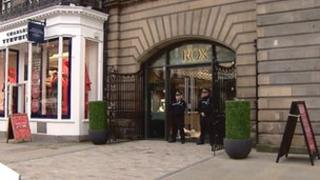 A man will stand trial over allegations he took part in a £1m robbery from an Edinburgh jeweller.
Aldaire Warmington, 26, was remanded in custody on charges of assault and robbery at Edinburgh Sheriff Court.
Mr Warmington, appeared on petition last week in connection with a robbery at the Rox jewellers in Edinburgh's George Street on 15 January.
No plea or declaration was made at that time. It was reported that £1m of items had been taken.
Mr Warmington, from Manchester, was again remanded in custody on Tuesday when he was in court for a second appearance, pending trial.
On Friday, Elliot Jorgensen, 25, from Salford was also remanded in custody on similar charges pending trial in connection with the Rox raid.